Fighting friction with chemistry and innovation
/INS. In today's world, nanotechnology can be employed in everything from cosmetics to paint, or steel and even toothpaste. It is also used in the oil and lubrication businesses. But how can microscopic particles help reduce fossil-fuel use and extend the life of components for some of the heaviest and largest machines – used in shipping, railways, marine engineering, mining, and heavy industry?
Adding particles measuring between one and 100 nanometres across to oil, grease and lubricants has created a fiercely competitive business, with hundreds of companies claiming to revolutionize the effects of wear and tear. Despite some progress in the field, much of the existing technology to reduce friction and boost wear protection doesn't get beyond the test-tube or the lab. 
Nevertheless, equipment operators and fleet managers, who work with machinery, are always keen to have higher performing lubricants which can cut maintenance, fuel and operating costs.

Nanol Technologies, based in Finland, is combining chemistry, nanotechnology and 30 years of fundamental research, in a unique start-up culture, to produce commercial lube additives which are supported by the most stringent research and exhaustive testing.

Their products contain additives which can reduce the wear of surfaces by creating a nano-thin protective layer of copper ions. This reduces wear and extends the lifetime of components and the lubricants, reducing fossil-fuel usage. However, through some clever engineering and science, the products work by actually using the surface activation caused by friction.

Start-up culture and cutting-edge lubrication science

The company was founded four years ago in Helsinki, among a vibrant start-up community, alongside others from the music, gaming and life-science industries. But the Nanol Technologies approach, solid research, expertise and steady growth, led to the firm becoming the hottest start-up in Finland earlier this year, ranked number one out of more than 700 other start-ups.

The approach of combining an entrepreneurial working culture and chemistry expertise seems to be delivering results and the company already has sales offices in Finland, Germany and Russia. Production is outsourced to Harjavalta, West Finland, to a Finnish speciality chemicals producer, CrisolteQ, a pioneer in recovering and recycling valuable elements and metals for the chemical industry. Nanol and CrisolteQ work together as strategic partners, which is essential in this business, in order for small and medium-sized enterprises to challenge the market.

Nanol Technologies has secured new funding and some of the world's best chemists, researchers and oil additive experts are helping to develop materials which push the boundaries in reducing wear, lowering costs and improving efficiency.

Dr. Aubrey Burrows, the company's Senior Advisor, is someone with more than 30 years' experience in the oil industry, who has focussed much of his career on energy efficiency and long-life lubricants. He explains: "The Nanol products are unique and different in terms of chemistry and how they function." However, it wasn't only the chemistry and fuel challenge which brought Dr. Burrows to work with the team.

"One of the things that attracted me to Nanol was that I like the people.  They are professional and committed as well as friendly and enthusiastic.  The team is not just out to make a fast buck."

He goes on to explain the Nanol approach: "The technology breakthrough is that the Nanol additive forms a nano-thin copper protective layer on the metal surface. Traditional lubricant additives used to provide wear protection and reduce friction are based on zinc dialkyldithiophosphates (ZDDPs) and organic fatty acid derivatives."

"ZDDPs contain phosphorous which poisons exhaust gas catalysts, which is a major problem.  New technology is required to boost wear performance.  The organic fatty acid derivatives used as friction modifiers are quickly depleted and do not provide robust performance.  So you need new types of additives are required to improve energy efficiency."

He said the Nanol products are different because they are not based on conventional nanotechnology. "The Nanol additive is homogenous and contains copper particles which are dispersed in a stable colloid.  The structure of the colloid is similar to that in overbased detergents containing metal carbonates which are widely used in oil formulations."

"This means that Nanol products do not have any problems and difficulties associated with conventional nanotechnology and there are no health and safety concerns. The key step to form the nano-film is surface activation which starts a redox reaction that reduces copper ions in the additive, to deposit copper on the metal surface.  The additive also has the capability to repair the nano-film and ensure robust enhanced performance."

Dr Burrows added: "The Nanol technology is a game changer because it not only differs chemically and mechanistically, it also opens the door to formulate a new generation of lubricants with enhanced performance."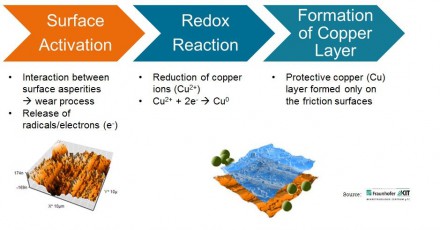 Less is more - a recipe for success
Professor Matthias Scherge, who is working with Nanol as an independent researcher, is one of the world's experts on tribology, the study of friction, wear, and lubrication. He has worked in the industry for around 10 years and is currently Director of the Fraunhofer IWM Micro Tribology Centre, Germany.
"With Tribology we try to come up with long term recipes. Most people think that if a door is creaking you get some oil. That only is a temporary solution for a few months, what we do is we look how to solve the creaking hinges problem for the next 10 years."
Like Dr. Burrows, Professor Scherge also noted the commitment and drive from the Nanol team. "Their product was not just a quick fix, they are sincere and they understand the basics. In short, their performance in the time I have worked with them has been remarkable."
"Nanol has a different approach to testing, compared to many others. They use data which is more reflective of real-world applications, rather than trying to speed things up. This gives more accurate results."
Professor Scherge added: "Their copper-based approach product is clever, with changes to the copper structure. Friction changes the first one or two hundred nanometres of material and people think that you put a layer over the material, then that's it. But it is not, that's where the Nanol product is different." 
The final word goes to Johan von Knorring, one of the company founders and CEO of Nanol Technologies, who says: "We have a lot of promise as a company, this is an exciting area to be involved in. Of course we are not your typical start-up, with pony-tails and bean-bags in the office, however we do have a good combination of enthusiasm and experience, people both young and more experienced, people who work hard and who are knowledgeable and people who are passionate about what we can achieve."
For more information
please contact Nanol Technologies Oy, Mr Johan von Knorring, CEO,
johan.vonknorring@nanoltechnologies.com
or +358 400 149 142.
Caption 1: The Nanol Technologies Helsinki team – a good combination of enthusiasm and experience. From left trainee Zacharias Wulff, Johan von Knorring, Tuula Leppälä, Richard Fagerholm and Luis Pereira.© Ab Nanol Technologies Oy

Caption 2: Nanol Technologies is combining chemistry, nanotechnology and 30 years of fundamental research to produce commercial lube additives.© Ab Nanol Technologies Oy

Caption 3: The R&D Team: Dr Kenneth Ekman (ChrisolteQ), Sophia von Haartman and thesis worker Samuli Lempiäinen. © Ab Nanol Technologies Oy

Caption 4: The company has sales offices in Finland, Germany (above) and Russia. Patrik Strand, Eduard Albrecht, Inna Kravchenko, and Alexander Hild.© Ab Nanol Technologies Oy

Caption 5: Chemical reaction.© Ab Nanol Technologies Oy

Caption 6: Professor Matthias Scherge.© Ab Nanol Technologies Oy

Caption 7: The production is outsourced to Harjavalta, West-Finland, to a Finnish speciality chemicals producer, CrisolteQ.© Ab Nanol Technologies Oy
About Nanol Technologies Oy

Ab Nanol Technologies Oy is a manufacturer of high-performance lube oil additives based on a unique patented technology. The new technologies, based on nanotechnology are already represented in a wide range of products and applications. Products produced by Nanol Technologies have made inroads in the lubricant oil and grease market with a variety of applications providing significant cost savings for customers. The current product portfolio includes high-performance anti-wear lubricant additives for railway and marine applications among others.