Stora Enso Graphical boards experience major growth through catalogues with IKEA leading the way
Ett vidgat produktutbud och ökad koncentration på att stärka verksamheten genom internationellt samarbete ger stöd för Stora Ensos kraftiga tillväxt inom grafisk kartong. Ett viktigt exempel på denna växande marknad är IKEA som har valt företagets kartongkvalitet Aurocard för sina katalogomslag. I år har 132 miljoner IKEA-kataloger tryckts och prognosen är en ökning med tiotals miljoner exemplar under de närmaste åren.
Kataloger är ett kärnområde för Stora Enso. Företaget har tagit fram en bred serie kartongprodukter, inklusive SBS-, CTMP- och FBB-kvaliteter och har gjort det möjligt för Stora Ensos servicecentra att erbjuda snabbare och mera flexibla leveranser. Ytterligare ett servicecentrum ska öppnas i Baienfurt i södra Tyskland kommande höst.
VVD Pasi Ahokas, direktör för Stora Enso Graphical Boards, berättar att investeringarna i samarbete med stora internationella företag har betalat sig. "Inom så gott som alla områden har vi växt snabbare än våra konkurrenter. Detta gäller såväl konventionella kataloger och telefonkataloger som böcker. En viktig faktor för våra framgångar är ett optimalt och kundanpassat omslagsmaterial. En bred produktpalett tillåter oss att göra just detta. Vi fann lösningen på IKEAs behov i Aurocard, eftersom omslagsmaterialet, förutom god tryckbarhet, måste uppvisa mycket hög styvhet", påpekar Pasi Ahokas.
Möbelgigantens katalog uppges vara en av världens största tryckta publikationer. Årets multimiljonupplaga ges ut i 45 versioner och på 23 språk. Katalogen är en viktig komponent i IKEAS globala expansionsstrategi, vilket innebär att upplagan troligen kommer att nå 180 miljoner år 2007.
"Katalogen är mer än en trycksak. Den är en hörnsten i IKEA-konceptet", säger Lars Carlson, inköpschef vid Inter-IKEA Systems S.A. "Katalogen ska kunna användas i ett helt år. Omslaget måste hålla mycket hög kvalitet, sett till tryckbarhet och hållbarhet, för att kunna överföra de värden som varumärket IKEA ska förmedla under hela den tid som katalogen är avsedd att användas. Vi trycker fotografiska bilder på omslagets båda sidor, så även insidan måste ha utmärkt färgåtergivning. Vi är ute efter ett slitstarkt omslag i toppkvalitet, men som har lägsta möjliga ytvikt. Dessutom förväntar vi oss att våra leverantörer ska uppfylla våra miljöprinciper - det är en absolut förutsättning för varje affärsförhållande."
Stora Enso är huvudleverantör av kartong till katalogens omslag och en av de större leverantörerna av papper till inlagan. Förutom Aurocard i omslaget, levereras PubliPress för inlagetryckning. Aurocard är en flerskikts grafisk kartong, tillverkad av nyfiber och blekt utan klor. Ytan är bladbestruken och har utmärkt tryckbarhet. Den mattbestrukna vita baksidan lämpar sig också för flerfärgstryck.
För ytterligare information, kontakta:
Stora Enso Oyj
Mr Pasi Ahokas, VVD, Graphical Boards
FIN-55800 Imatra
FINLAND
Tel: +358 2046 22665
Fax: +358 2046 24767
E-post: pasi.ahokas@storaenso.com
Stora Enso Packaging Boards
Scandinavia Sales
Mr Joakim Stockhaus, Försäljningsdirektör
SE-774 89 Fors
Tel: +46 226 350 45
Fax: +46 226 353 79
E-post: joakim.stockhaus@storaenso.com
Press release images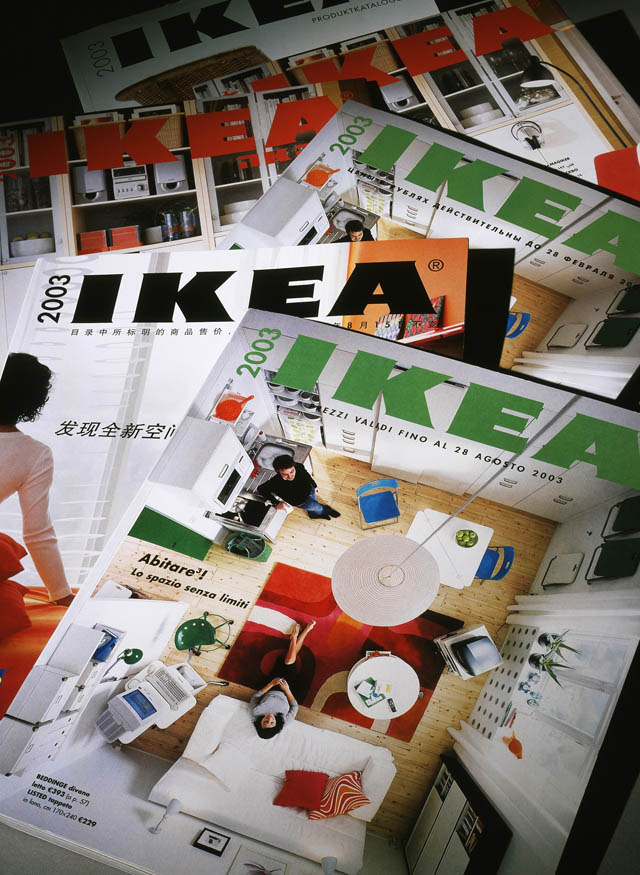 Stora Enso Graphical boards experience major growth through catalogues with IKEA leading the way