TRUMPF GmbH + Co. KG,
Johann-Maus-Straße 2,
71254 Ditzingen,
Deutschland
Publications

Published on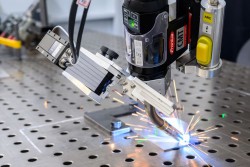 /INS.  TRUMPF will be showcasing a robot that uses sensors to program its own weld path at "Schweissen & Schneiden", the world's leading trade fair for joining, cutting and surfacing technology, which will be held in Essen, Germany. The robot makes use of TRUMPF's new smart seam-tracking technology, which the high-tech company developed in collaboration with the Fraunhofer Institute for Manufacturing Engineering and Automation IPA. "We've basically developed a way for the welding robot to program itself. For users, that means a much easier transition into automated arc welding – plus a clear competitive edge," says TRUMPF R&D manager Sven Klingschat. Housed in the head of the welding torch, the sensor automatically calculates the weld path for each part.

Published on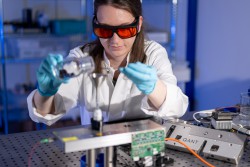 Sensor measurements harness quantum effects to facilitate novel applications in the chemical, semiconductor and mechanical engineering sectors // Quantum technology can be used to simultaneously measure the size, shape and velocity of microparticles.

Published on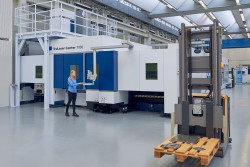 TRUMPF to incorporate automated guided vehicle systems in customers' sheet-metal fabrication operations // Pooling the two companies' know-how will enhance the flow of materials in connected manufacturing environments