Messukeskus Helsinki,
Finland, tel. +358 40 450 3250,
PL 21, 00521 Helsinki,
Publications

Published on
/ins Next spring, PulPaper will bring the world's best experts together in Helsinki to explore digitalisation, biorefinery development and breakthrough innovations. The seminars will feature top international speakers from Japan, North America and other parts of the world, as well as renowned Finnish business leaders and researchers. PulPaper 2018 will be held at Messukeskus Helsinki, Expo and Convention Centre from 29 to 31 May.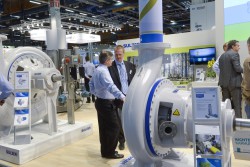 /ins . PulPaper is the leading international event in the forest industry's calendar, and will be held at Messukeskus in Helsinki on 29–31 May 2018. The event acts as a global meeting place where visitors can get a comprehensive overview of the latest forestry technology. The previous event attracted visitors from a total of 70 different countries, and exhibitors from 30 countries are expected at PulPaper 2018.