Solving's head office is:
Ab Solving Oy
Pännäistentie 181
68601 Pietarsaari
FINLAND
Tel. +358 6 781 7500
Fax +358 6 781 7510
sales@solving.com
Publications

Published on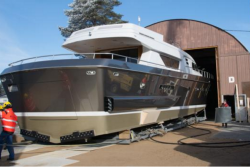 /INS. The Ostrobothnian boat building yard Baltic Yachts (Finland) received a contract to modernise an 85 ft motor yacht. To move the yacht into the production hall and out again after the refit Baltic engaged Solving and their air bearing rigging service. Air film technology, using low-profile modules, was the only safe way to move the yacht because the clearance between the top of the yacht and the door opening was only a few centimetres.

Published on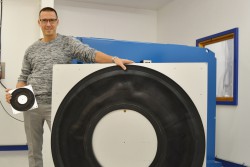 /INS. This year 25 years have passed since Solving Sweden AB was founded and Solving took over the manufacture of air bearings in Västerås from BT Movit. Production has continued since then – today though with a more efficient production facility and consequently improved air bearing quality. In addition to air bearing based handling systems Solving's extensive product range now includes wheeled automated guided vehicles (AGVs).