Quaze is at the forefront of the industry. Their innovative technology liberates robots from traditional power constraints, enabling seamless operations across diverse sectors.
With a focus on sustainability and energy efficiency, they empower businesses and individuals to unleash the full potential of robotics.
Publications

Published on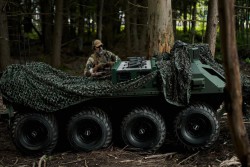 Quaze Technologies, a Canada-based innovative technology company and the creator of wide-surface wireless power transfer, is introducing theirrevolutionary autonomous wireless power transfer capabilities to the defence sector at DSEi 23. Quaze have partnered with Rheinmetall to bring this innovative technology to life via an agnostic unmanned wireless charging solution for autonomous robotics.