Established in 2010, Neousys Technology designs and manufactures industrial grade rugged embedded computers and systems with core expertise ranging from embedded computing to data acquisition and processing.
Their dedication to innovate and integrate practical application-oriented functions set us apart from the rest and their products are ideal solutions for automation, machine vision, transportation, GPU computing, surveillance and video analytics.
Neousys Technology Inc.
Taipei Headquarter
Address: 15F, No.868-3, Zhongzheng Rd., Zhonghe Dist., New Taipei City, 23586, Taiwan

TEL: +886-2-22236182

FAX: +886-2-22236183

Email: sales@neousys-tech.com
Publications

Published on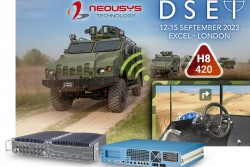 Taipei, Taiwan – Sep. 11, 2023 – Neousys Technology, an industry-leading provider of rugged embedded systems, is collaborating with Bressner at the DSEI exhibition during September 12th to 15th at booth H8-420, ExCel London. This collaboration is a testament to the unwavering dedication to tackling the distinctive demands of the military sector by providing resilient and smart solutions. The spotlight is on their rugged HPC server, featuring the power of AMD EPYC, and IP67 waterproof embedded computers, both are winners of Military & Aerospace Electronics Innovators Awards and are designed to meet the rigorous needs of military applications.