The Abu Dhabi National Oil Company or ADNOC is the state-owned oil company of the United Arab Emirates (UAE).
It is the world's 12th largest oil company by production. As of 2021, the company has an oil production capacity exceeding 4 million bpd with plans to increase to 5 million bpd by 2030. It is the United Arab Emirate's largest oil company.
ADNOC is one of few oil companies in the world to make a substantial investment to increase oil production amid growing pressure to reduce output due to climate change.
Publications

Published on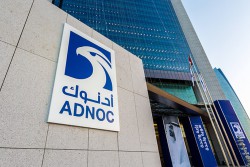 Landmark project set to decarbonize the cooling of buildings in Masdar City and further diversify the UAE's energy mix ADNOC is pioneering the development of geothermal energy in the UAE, which can provide a supply of clean baseload energy for electricity generation Project is enabled by ADNOC's $15 billion allocation towards low-carbon solutions and will support its decarbonization plan and net zero by 2045 ambition