Evergreen Marine Corporation is a Taiwanese container transportation and shipping company that is headquartered in Luzhu District, Taoyuan City, Taiwan.
Evergreen calls on 240 ports worldwide in about 80 countries, and is the sixth largest company in the shipping industry.
Its principal trading routes are East Asia to North America, Central America and the Caribbean; East Asia to the Mediterranean and northern Europe; Europe to the east coast of North America; East Asia to Australia; East Asia to eastern and southern Africa; East Asia to South America; and an intra Asia service linking ports in East Asia to the Persian Gulf and the Red Sea.
The company's activities include: shipping, construction of containers and ships, management of ports, engineering and real estate development.
Publications

Published on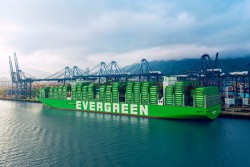 /INS.  In a move that positions it to displace Hapag-LLoyd as the world's fifth largest box ship operator Taiwan's Evergreen Marine Corporation is betting billions on methanol-fueling, placing orders for 24 methanol dual fueled 16,000 TEU containerships, split between two Asian shipyards. At 16,000 TEU, the ships are larger than anything Evergreen Marine Asia  currently lists in its flee t, the largest of which come in at 8,508 TEU.